Posted by Sarah Zanolini on 12th Jun 2015
Growing up in our house, Dad's wishes often called the shots, from what we would eat for dinner to where we would trek to on weekends - long treks, 2 or even 3 miles uphill both ways - for him to test out his latest landscape photo gear. So when the official Father's Day rolled around it basically felt like a normal day, except that we tried to make a few less wisecracks at his expense, and sometimes we'd even make him a gift or buy him some socks. We're pretty sure he liked socks the best, but maybe that's just because our gifts were, well, the sort of things you made when you were 8 or 9 in arts and crafts class, i.e. not very impressive.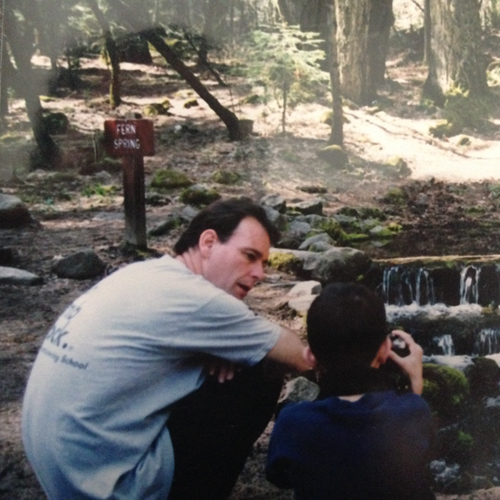 Scott teaching my brother Sam to use a manual camera at Fern Spring, Yosemite.
Now that I'm an adult, wisecracks about him (and others) endemic to our family aside, I've come to realize what an awesome Dad I have. I was about 11 or 12 when he taught me the basics of ISO, aperture, and shutter speed on an old Canon AE-1. That amazing little camera is long gone, but his lesson lives on, crafted into this simple video tutorial on the subject for others (protip: unlike in real life, you can change the video playback speed, just in case he speaks too quickly for you ;-). I've lost track of all the times he's picked up the phone and diagnosed whatever was maybe wrong with my car within three questions, but it will always seem like magic when the mechanic confirms his theory the next day. Through all the years of my endless questions, he's always remained patient and willing to take the time to offer a thorough explanation about why something works the way it does, even for the second or third time.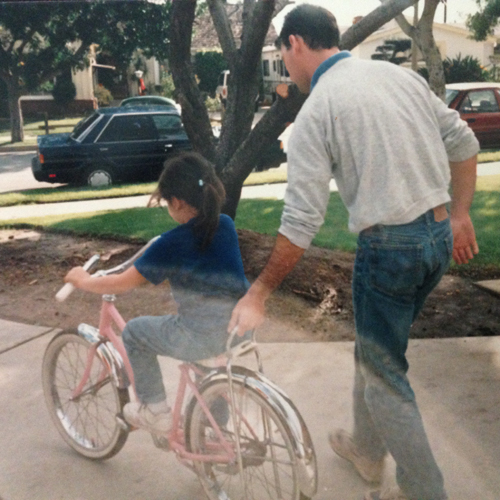 My first bike ride without training wheels, shame about that gnarly lens flare.
That's why as this father's day approaches, I'm prepared. After careful planning, I decided that the best way to honor my dad is simple: a gift card for cash. How do I know this? I asked and he told me so. This way whether it is bicycle accessories or a new lens he happens to be saving up for, he'll know that I cared enough to help him buy whatever he wants. Because he's worth it, but also super picky, and there's no way I can afford to buy that Sony Alpha 7 he likes so much, or most of the other fancy things on Acratech's Father's Day Pinterest page. If he didn't design, produce, and have access to dozens of monitor viewing angle gauges though I would probably buy him one of those, because he thinks they're one of the best products we make, and he would definitely know best.
Happy Father's Day, to all the great photographer-dads out there!