Posted by Originally posted by Sarah Zanolini 08/10/2016 on 11th Aug 2016
It's that time of year again: the Perseid meteor shower is anticipated to hit its peak during the wee morning hours of August 11 and12. Although the Perseids are an annual event, this will be an especially good year for viewing them, even better than last year. The amount of meteors be hour is over double its normal rate. So pack up your tripods and gear and head for the hills, fields, or any other spot with low levels of light pollution, and get shooting.
Along with the tips from last year, Abe found a few other sites to aid you in your night sky photography adventure.
PhotographyTalk did an article called Easy Photography Tips for Beginners that quickly explains gear, settings, location and ends with a video tutorial on processing.
Lonely Speck Guide to Astrophotography and How to Photograph Comets Like ISON Without Specialized Equipment or Telescopes
While you are waiting for the big event, try shooting a night landscape. Check out the Night Photography tips on Desert USA
The American Meteor Society published this extremely comprehensive guide to photographing a meteor shower if you'd like a step-by-step walk through, or are simply new to night photography with a DSLR.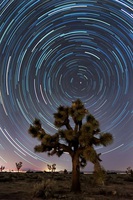 Joshua Tree time lapse, 2015. Photo by Robert Jensen, shot on a Canon G7x and an Acratech GP.
Constellation Maps
Northern Hemisphere Star Chart: Summer Constellations
Photographs with mouse-over constellations for learning stars
Other Night Photography Tutorials
Popular Photography's recent Nighttime Landscape Techniques and Tips article
Digital Photography School's post on Photographing the Night Sky