A quick reminder if you haven't yet registered, sign-ups for Jeff Cable's "Favorite Things" Giveaway contest will be ending this Friday, December 12. There are now 36 prizes to be won by 36 lucky winners, including an Acratech GPSs Ballhead with lever clamp, and also an Acratech Swift Clamp!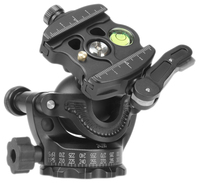 Shown above: GPSS with Lever Clamp and also the Swift Clamp.
Apart from the potential for free Acratech swag, Jeff is also raffling off:
a Canon 70D w/ an 18-135mm IS STM lens
a DJI Phantom II Vision+ Aerial Camera
Wacom Intuos Pro Tablets
32GB Lexar Professional 1066x CF cards
a 50mm f1.4 Sigma lens
a Gitzo Carbonfiber Monopod
3 Western Digital 4TB portable hard drives
BlackRapid straps, Lowepro gear bags
Software, Accessories, Printers, and more!
This is a great chance to score some free new gear, or gifts for the other photographers in your life. You can still sign up here: Jeff Cable's "Favorite Things Giveaway" on Facebook, and also check out his post about why the items he's raffling off are his favorites here.