Posted by Scott Dordick on 20th Aug 2015
Deep familiarity with your camera's settings can make the difference between springing into action, getting you the shot you want, and fumbling only to lose that photo worthy moment entirely. For instance, the other day I arrived home and found a lizard sunning himself right on my front porch. I knew that I would miss the shot if I wasn't quick. I ran inside to grab my camera, adjusting the settings on my way back to the porch.
Normally I leave my camera set in aperture priority mode, because it helps in situations like this. I set the aperture to F-14 to get some depth of field, because I wanted his head in sharp focus from his mouth to his eye. Next I set the ISO to 1600, so that the shutter speed would be I fast enough to freeze any motion. Then I set the white balance to AWB (automatic white balance), before adding 1-2/3 stops of exposure compensation, because I knew that the camera would underexpose the lizard because of the bright sunlit concrete he was sunning on. Once I got my camera into position, I quickly moved a single auto-focus point to just in front of his eye. I got this shot on the 3 and his eyes weren't squinting.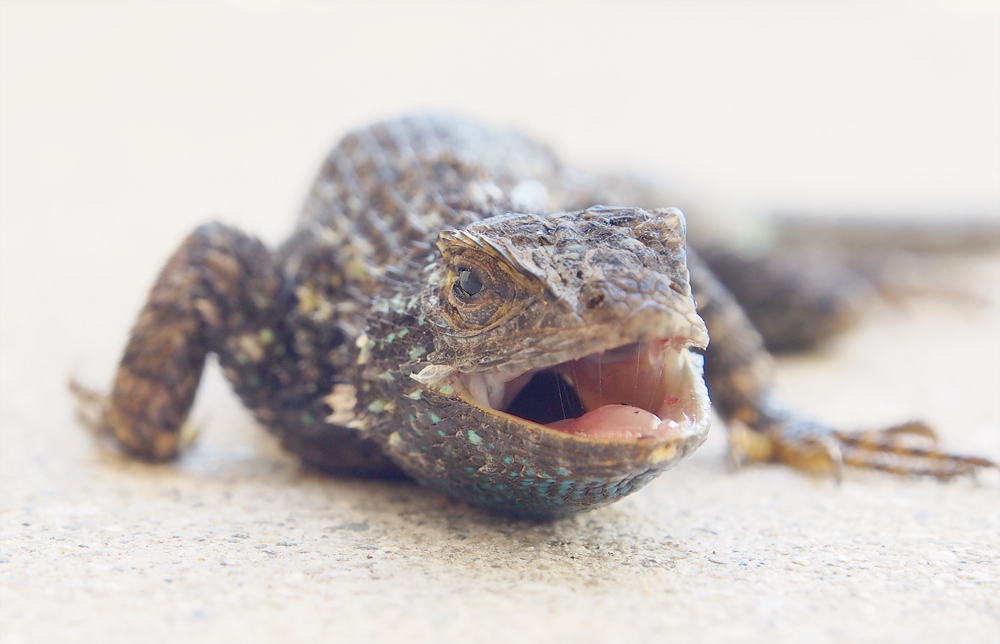 "Lizard," August 2015, by Scott Dordick
I am glad I was able to move so quickly, adjusting all these settings in a flash, or else I would have missed the shot!
So, when you are watching TV, listening to music, or during any other convenient down time, take the opportunity to grab your camera and practice making changes to your camera's settings. Practice until you are able to change the most common settings automatically, without any pauses or delay in thinking about it. Doing so will allow you to save time both in the field and on the fly, getting you more satisfying shots more often.